Outer Cape Cod Beaches
A summertime visit to Cape Cod just wouldn't be complete without some time at the ocean, and these beaches are some of the most picturesque in the area. Below is Nauset Rental's guide to the Best Outer Cape Beaches, by town.
ORLEANS
The town of Orleans sits in the elbow of the arm of Cape Cod. As a repeat destination for most families, Orleans beaches keeps visitors coming back every year. It bustles with beachgoers in the summertime, attracting young and old swimmers, boogie boarders, surfers and those who prefer calm waters. Both Nauset Beach and Skaket Beach offer enough variance to cater to whatever your beach desires may be. Family friendly low-tide flats on the bayside and roaring Atlantic surf on the oceanside bookend freshwater kettle ponds, miles of salt marsh, and endless possibilities for water adventures.
Favorite Beaches in Orleans: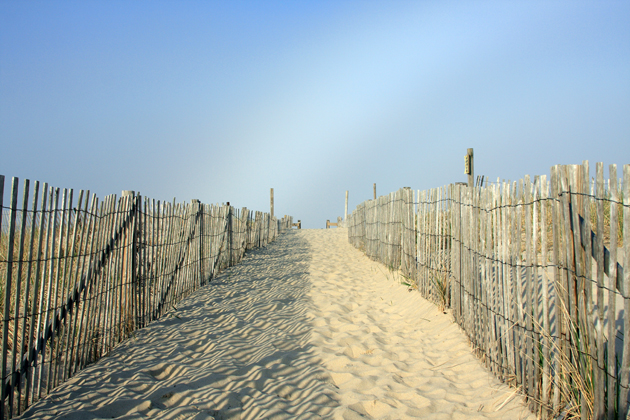 Nauset Beach
Named one of the "Top Things to Do on Cape Cod", a day relaxing on Nauset Beach's miles and miles of white sand is one of the best ways to spend your time in the Orleans area. Learn More>
Skaket Beach
Skaket Beach is the ultimate kid-friendly destination, with warm, calm and clear bay waters and soft sands perfect for sculpting sandcastles. Learn More>

---
EASTHAM
Eastham may be a small town, but what it lacks in development it makes up in preserved natural beauty. In the early 1960's, the U.S. Government deemed much of the outer Cape a National Park, resulting in nearly 40 miles of protected lands named Cape Cod National Seashore. The town holds the main National Park Service visitor facility, the Salt Pond Visitor Center, and several notable beaches. Be sure to take a right and a left once in a while to explore a bit of history, nature and beach in between.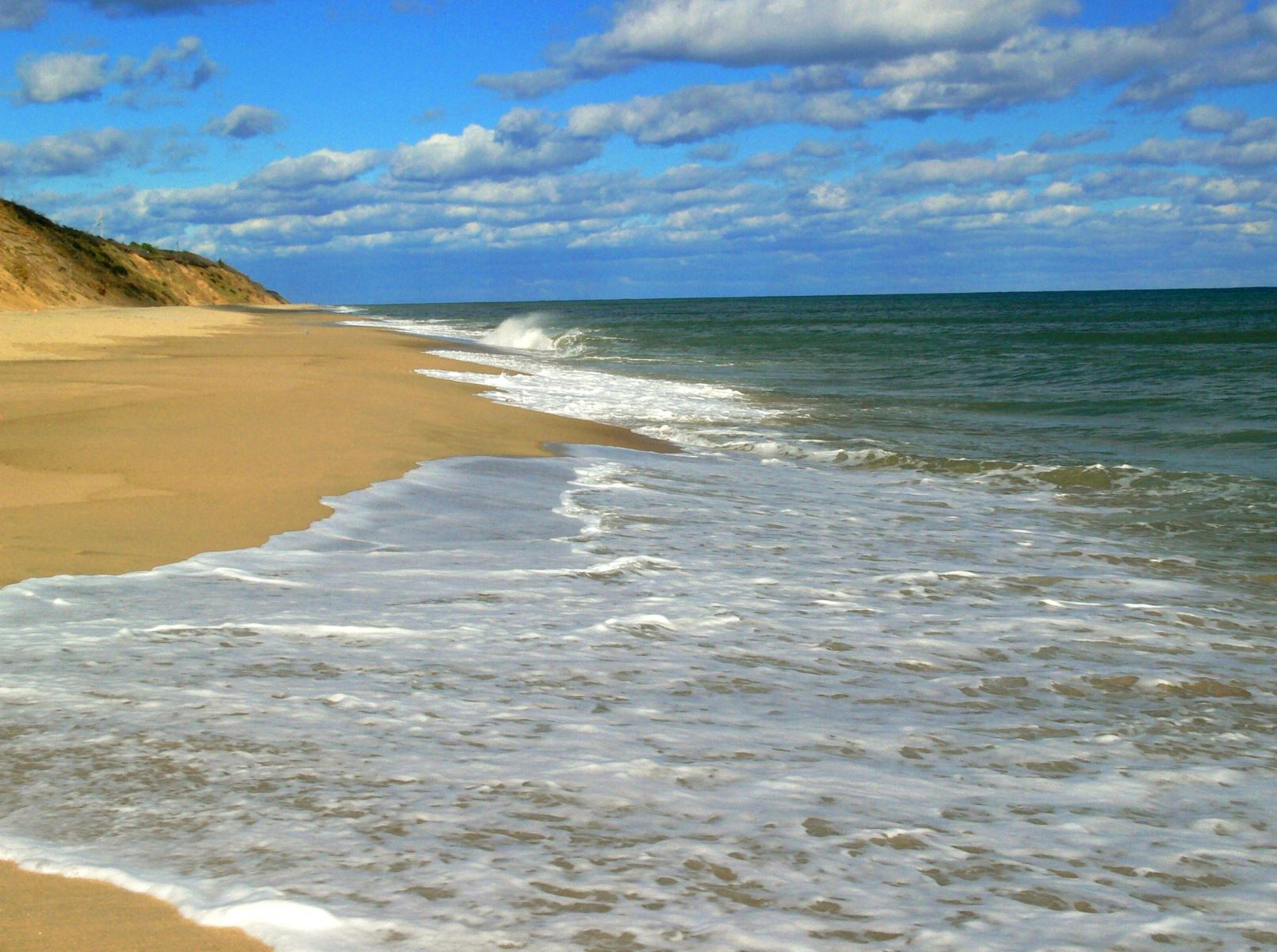 Favorite Beaches in Eastham:
First Encounter
Named after the first meeting between locals and visitors, First Encounter Beach is a stunning bay-side beach, perfect for those who prefer tranquil beauty to roaring surf. Learn More>
Coast Guard Beach
Coast Guard Beach, located in the Cape Cod National Seashore, is a microcosm of activity for beachgoers, history buffs, walkers, joggers and birders alike. Learn More>

---
WELLFLEET
Wellfleet is known for tall dunes, surf culture, oysters and a laid-back beach town energy. If tall dunes and surf aren't in your vacation repertoire, the bayside beaches in Wellfleet have their own unique landscape. Mellow and easily accessible, these beaches are perfect for families with small children or those who require more assistance getting to and from the car. Depending on the tides and the beach, you can enjoy a relaxing float or paddle, have front row seats to a sunset or witness the town's prodigious aquaculture industry: oyster farming.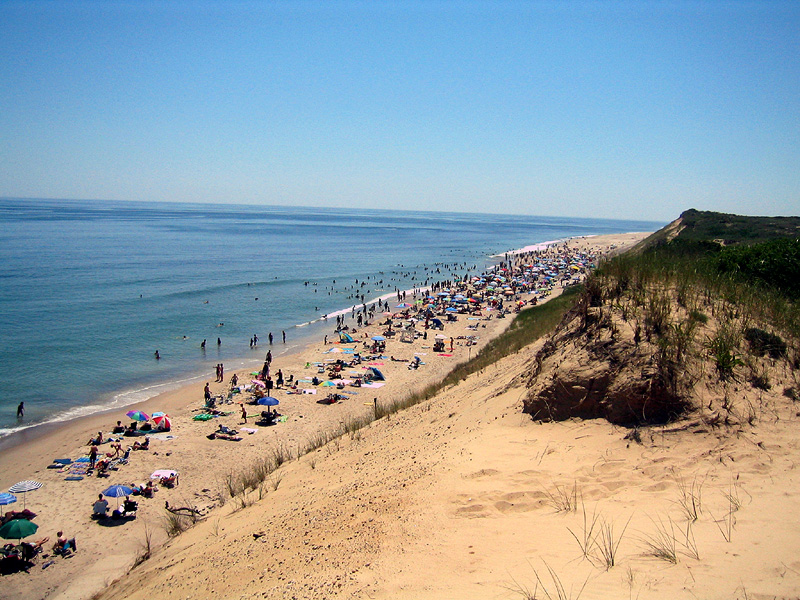 Favorite Beaches in Wellfleet:
Mayo Beach
Within walking distance to Wellfleet's Main Street, Mayo Beach is perhaps also the most family-friendly beach in town. Located across from the the beach's free parking lot, you'll find tennis courts, large fields, basketball and a new playground for family fun. Learn More>
Lecount Hollow
Heralded as a favorite beach among locals in the summers, Lecount Hollow Beach or Maguire Landing comes complete with tall sand dunes, summer lifeguards and miles of undeveloped land, perfect for beach volleyball and sunbathing. Learn More>

---
TRURO
Truro is a hidden gem of the Outer Cape. On the way to Provincetown, visitors often breeze through this small town without a second glance. For those who know and are looking for a quieter beach experience, quaint shopping, and a cultural center, Truro is the place to be. Handicap accessible beaches, views of Provincetown on the bayside, surfing on the oceanside, with sandwiches, chocolate and artisanal coffee in between.
Favorite Beaches in Truro:
Corn Hill Beach
Experience the calm, warmer waters of Cape Cod Bay at Corn Hill Beach with views of Provincetown, endless sandbars at low tide and a handicap accessible boardwalk. Learn More>
Head of the Meadow
Head of the Meadow is the go-to Outer Cape Beach for those needing extra accessibility. Wheelchairs, walkers and wagons are able to access the beauty of this Truro owned beach. Learn More>