Skaket Beach, Orleans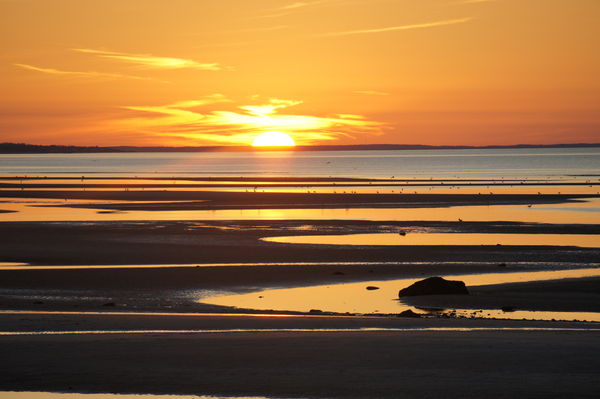 Warm and shallow waters, endless sand flats at low tide, Skaket has earned the unofficial title of best family-friendly beach in Orleans. The magic of Skaket is not lost in the summer crowds, though where other seasonal destinations leave you gasping for personal space, Skaket has football fields of sandbars. Before taking off to explore the miles of exposed beach, be sure to check the Skaket Beach tide chart to know before you go. A higher tide means shallow and warm waters, perfect for kids, those learning to swim, restful floating and the elderly. A lower tide means miles of sandbars, room for sandcastles and space for long beach walks. Sunsets overlooking Cape Cod Bay will round out your vacation (or staycation) experience.
Complete with a snack bar, lifeguards, restrooms, outdoor showers and spectacular sunsets, this beach does not disappoint. When the surf is rough and the waters are colder on the Atlantic side, Skaket is your respite. Bring the whole family or keep a slice of sandbar to yourself.
Parking
A daily beach pass or sticker is needed during high season. For specific dates, see the town of
Orleans FAQ page
. 2018 dates specifically include weekends starting Saturday, May 26. Parking passes are needed every day from June 16 until Labor Day. Daily rates are $20, the pass is good for the entire day at both Skaket and Nauset.
See full pricing of week or seasonal passes
here
.
Food
Rumored to have amazing onion rings, the beach snack bar at Skaket offers burgers, fish sandwiches and more Cape Cod beach classics for your lunch break. If you "happen" to forget your cooler, they've got you covered.
Restrooms
Open from Spring - Autumn with outdoor showers for a place to rinse off before getting back in the car or on the bike.
General Rules and Regulations
Dogs are not allowed on Skaket beach from April 1st - Labor Day.
Alcohol is prohibited.
Fires are not permitted on Orleans beaches except for permitted open fires for cooking only.
No dunes at Skaket means easy-on, easy-off for families. Kid-friendly and handicap accessible with a ramp.
Lifeguards during high season.
Fishing and other beach activities are at the discretion of lifeguards when they are on duty.
Official rules and regulations on the
Orleans town government
page include comprehensive breakdown of when and where you can pitch a tent, which beaches regularly close to the public, and fire regulations.