Coast Guard Beach, Eastham, MA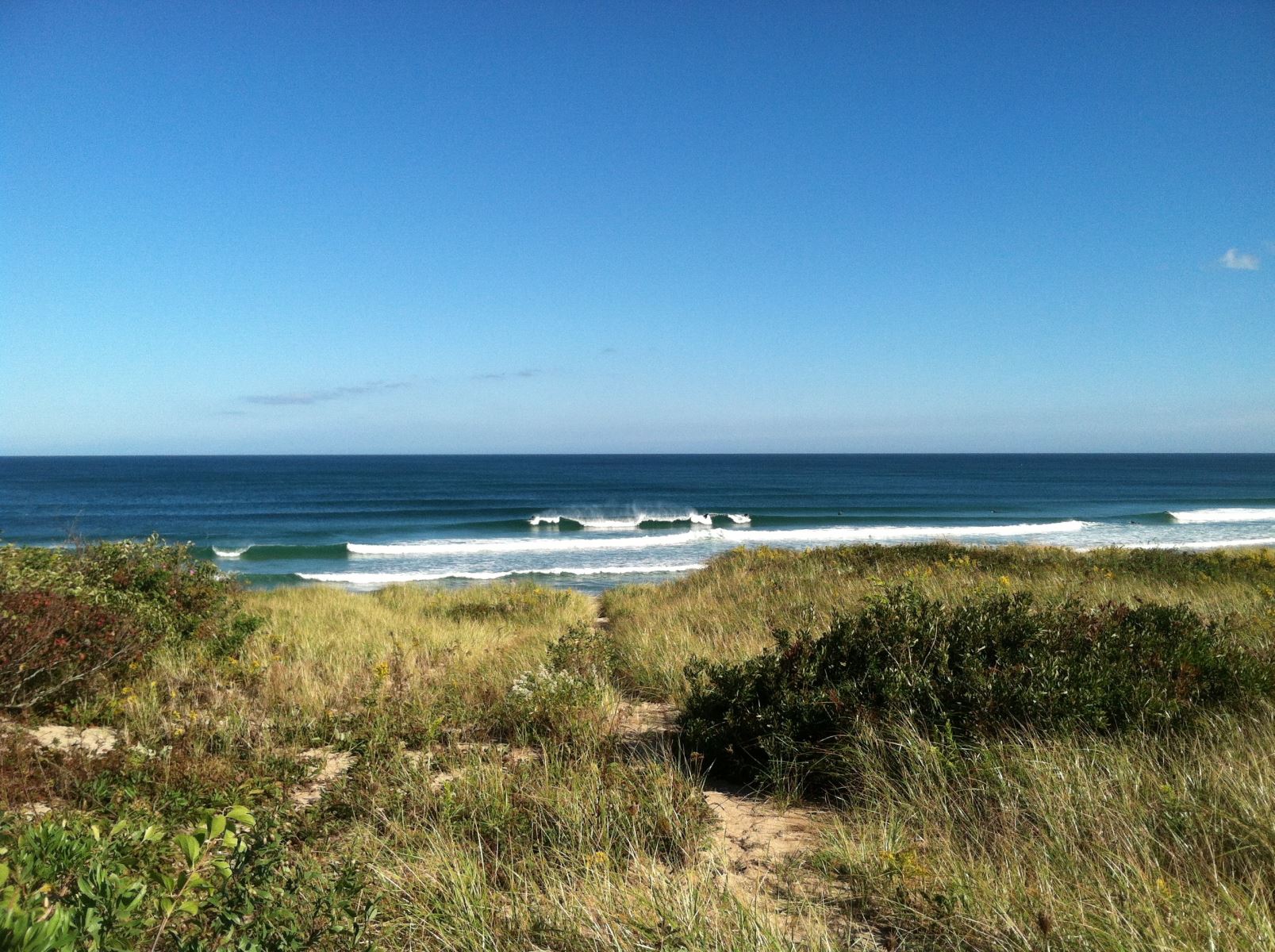 Owned and operated by the National Park Service, Coast Guard Beach is a microcosm of activity. History buffs, beachgoers, walkers, joggers and birders alike visit this popular Cape Cod beach. Coast Guard is named after the lifesaving station still standing on the property, a reminder of the origin of the Massachusetts Humane Society and the birth of the Federal lifesaving program. Present day, the site overlooks Nauset Inlet, Marsh and Coast Guard beach.
Behind the Coast Guard station, a walkway through the marsh leads to a bicycle trail bridge and alternative routes to the Salt Pond Visitor Center. This path provides an opportunity to deviate from the beach traffic and explore the Nauset Marsh close up.
Coast Guard Beach itself is much like many of the other Outer Cape surf beaches in that its sandbars, swells, and currents fluctuate providing different conditions almost daily. Surfers, stand up paddle boarders, boogie boarders and swimmers all share the waves. Expansive sandy shores, lifeguard towers, and happy families join the growing list of commonalities.
However, what is different is what lies just beyond the protected beach at Coast Guard. Walk north (to the left) and you'll find yourself at Nauset Light beach, named after the lighthouse next to its parking lot. Walk south and you'll find yourself at the mouth of the inlet. Nauset inlet is home to shorebirds, playful seals, and the occasional member of the shark family.
Know Before You Go
Parking
Daily permits and seasonal passes available. From mid-June to Labor Day the beach parking lot is for vehicles with state-issued handicap permits and staff only. Beach visitors in season need to park a ½ mile up the road at the Little Creek parking lot and take a shuttle down. Current fee rates are $25/per day for cars, $20 for motorcycles, $15 for pedestrians and cyclists and a $60 seasonal pass for entry into all six National Seashore beaches on Cape Cod.
Entry is free for any active duty military and their dependents with ID and for any children under the age of 16. Pro tip: for those older than 62, lifetime access to all National Parks is within reach. The Lifetime Senior Pass is available for a one-time fee of $80 and gets you free access to all nationally managed beaches and parks for the rest of your life. "America the Beautiful" annual passes, which are valid at over 2,000 federal parks and recreation sites across the United States, is also available for $80.
Food
The best bet for grab & go food before the beach is just down the road at Sam's Deli. Made-to-order sandwiches, pasta salads, breakfast sandwiches, as well as a small market offers everything you need to fill up your cooler and drive down. Nearby is also Hole in One Bakery & Coffee Shop and Ben & Jerry's for all your caffeine and ice cream needs.
Restrooms
Open from Spring - Autumn
General Rules and Regulations
Beaches are lifeguarded in from June to September.
Accessibility for those in wheelchairs is at a premium here, a Mobi-mat provides a stable walkway for wheels and beach wheelchairs are available.
Trash and recycling provided by National Park service in season.
Dogs are allowed off the lifeguard protected beach, with leashes on at all times. Observe rules and regulations regarding the shorebird nesting sites.
Surfing is allowed off the protected beach.
Beach fire permits are obtained at the Salt Pond Visitor Center.
For more up to date information on events, transportation, fees, park closures, and special circumstances affecting your beach visit, keep this page bookmarked.