Top 10 Things to Do With Your Dog on Outer Cape Cod
It really is a dog's life on Cape Cod! Throughout the dog days of summer, whether it's blue skies or raining cats and dogs, there is plenty to do with your pooch in pet-friendly Cape Cod. Miles of soft white sands line the cool Atlantic waters perfect for long walks, off-roading and plenty of tail-wagging excitement from Orleans all the way to the tip of the Peninsula at Provincetown, named Dog Town USA by Dog Fancy Magazine.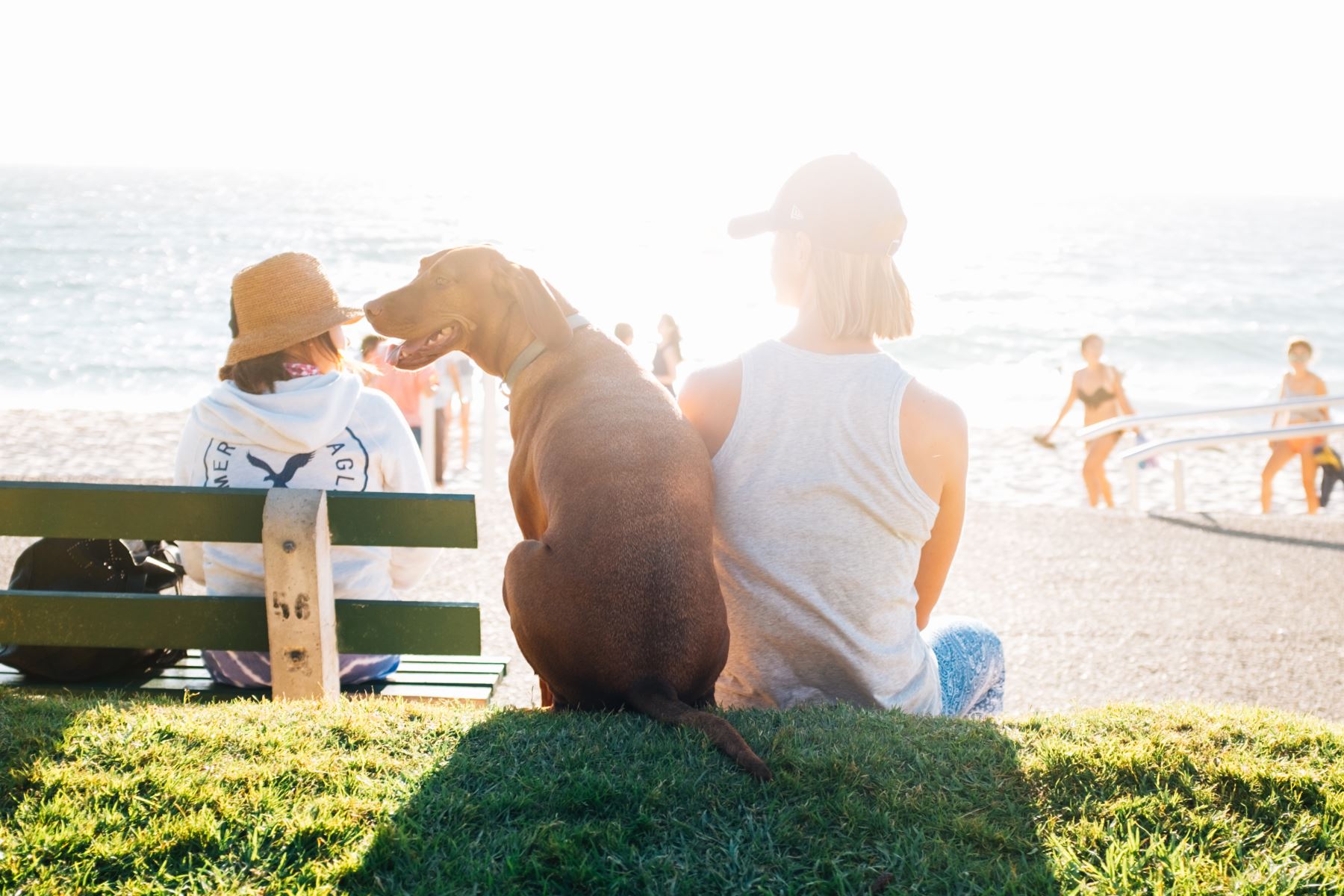 #1: Sun, Sand & Surf
There are seven beaches in the Cape Cod National Seashore boasting endless stretches of white sands, and all are among the most dog-friendly beaches in Cape Cod. Dogs on a 6' leash are allowed year-round except in lifeguard protected swimming areas and posted shorebird nesting areas. There are plenty of beaches outside of the National Seashore, too! The world-famous Nauset Beach and Skaket Beach allow pets during the off-season from Labor to Memorial Day. Harbor Beach in Provincetown also allows leashed pets all year round and your pooch can run completely free chasing the waves from 6am to 9am. Cape Cod beaches are generally super pet-friendly, just pay attention to the signs!
#2: ORV Trails
Wind down the windows and feel the wind on your face as you off road across the sands to desolate beaches nestled between towering dunes and cool ocean waters. From the ORV Trails at Nauset Beach to the secluded Race Point Beach trails at the tip of Cape Cod, most of Outer Cape Cod's ORV Trails are pet-friendly so grab your beach sticker, check the tides and head out for a day of adventures. Leashes are required, however, your pet may be off-leash by the water if under voice control. Watch these waters they can be rough and sometimes sharky! Keep your pet close by.
#3 Hit the Trails
There is nothing better than an invigorating hike with your furry friend, and Outer Cape Cod has plenty of pet-friendly trails to explore. The Cape Cod Rail Trail is a great place to start. Your leashed pet will enjoy cruising with you along 22 miles of paved trail following the former railroad from Dennis all the way to Wellfleet through the charming towns of Harwich, Brewster, Orleans and Eastham with many places to hop off and explore the wilderness, stop for a bite at a pet-friendly café and spend some quiet time in the untouched wilderness. Your pet is also welcome to join you at Kents Point and Paw Wah Pond Conservation Area in Orleans, through the wildflower meadows of Cottontail Acres and Wiley Park in Eastham and the Nauset Trail from the Salt Pond Visitor Center to Coast Guard Beach between November 1 and April 30. Discover the best of Wellfleet and Truro as you explore the historic Kettle Ponds shaded by towering pitch pines on the Kettle Pond Trail then on to an all-time favorite, some say one of the best nature walks on Cape Cod, the scenic Long Point Trail in Provincetown. The 4.9-mile trail takes you and your pooch along remote unspoiled stretches of beach with views of both the Bay and the Atlantic, past historic lighthouses to the windy tip of Cape Cod.
#4: Play in the Park
The "Second Best Dog Park in America" is right here in Outer Cape Cod, in pet-friendly Provincetown. Throw your pooch the tastiest bone ever and take him for a romp around Pilgrim Bark Park. Divided into two parks for smaller and larger dogs, Pilgrim Bark Park remains in tune with the artsy and eclectic buzz of Provincetown with local artists adding a touch of their creativity, a combination of art, history and function where your pooch can truly run free.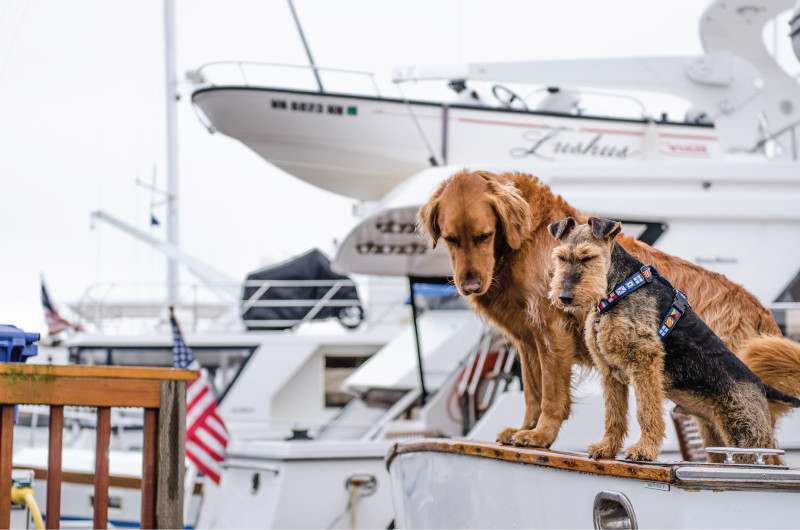 #5: Sail Away with Me
Every dog has its day and this just might be the most memorable one of all! Set sail on a delightful cruise with your pooch. Dog Gone Sailing Charters, Dolphin Fleet and SeaSalt Charters all offer a variety of trips including whale-watching and dolphin cruises, sunrise and sunset sails and even charter fishing trips.
#6: Pamper your Pooch with a Little Shopping
Dogs are welcome on most of Cape Cod's Main Streets and the road to Provincetown is paved with paw prints! Commercial Street is one of the best and pet-friendliest Cape Cod attractions minutes from the water's edge at the tip of Cape Cod. Your furry friend will be welcomed at most shops with water bowls and biscuits, artists offer pet portraits and Paws & Whiskers serves up delicious freshly baked doggy treats. More pet-friendly shopping can be done at the waterside Aquarium Mall.
#7: Plan a Play Date
There are many adventures in Outer Cape Cod that are not pet-friendly so plan a play date for your pooch to give you a bit of time to explore while he romps and plays at the incredible Provincetown Pet Resort. It's doggy day care at its finest with over 7,000 square feet of indoor and outdoor play areas, toys, large screen TV's playing cartoons, cool water pools and comfy nap areas! Rest assured your pooch will have the play date of a lifetime.
#8 Jump through Rings at The Paw Palooza Pet Festival
July welcomes the largest pet festival on the peninsula to the nearby town of Yarmouth. Cape Cod Paw Palooza is a two-day extravaganza featuring the Cape's first-ever DockDogs® tournament, world-record high flying Frisbee Dogs, K-9 patrol dogs showing off their skills, dozens of vendors offering the hottest pet trends, doggie facials, a kissing booth and delish food trucks!
#9 Share a Meal with your Fur-Baby
There are plenty of options for pooch-side dining in Outer Cape Cod, with Provincetown again coming out tops with over 20 dog-friendly dining patios along Commercial Street alone. From the aroma of fresh coffee at dawn to feasting al-fresco on fresh seafood, our charming Outer Cape Cod towns have a special spot waiting for you and your pooch! Here are our favorites but to avoid disappointment, we recommend calling ahead to confirm!
Bubala's by the Bay
,
P'Town
- (508) 487-0773
Central House at the Crown
,
P'Town
- (508) 487-1430
Fortune Cookie Chinese Restaurant
,
P'Town
- (508) 487-6688
Governor Bradford Restaurant
,
P'Town
- (508) 487-2781
Joe Coffee & Espresso Bar
,
P'Town
- (508) 487-6656
Jo Mama's New York Bagels & Coffee
,
P'Town
- (508) 487-1879
John Doe's Wood Fired Pizza
,
P'Town
- (508) 487-7776
Lucky Dog
,
P'Town
- (508) 487-3647
Patio American Grill & Cocktail Bar
,
P'Town
- (508) 487-4003
Pepe's Wharf Restaurant
,
P'Town
- (508) 487-8717
PJ's Family Restaurant
,
Wellfleet
- (508) 349-2126
Savory and the Sweet Escape
,
Truro
- (508) 4872225
The Purple Feather Café & Treatery
,
P'Town
- (508) 487-9100
The Red Inn
,
P'Town
- (508) 487-7334
The Red Shack
,
P'Town
- (508) 487-7422
The Wired Puppy
,
P'Town
- (508) 487-0017
Twisted Sisters
,
P'Town
- (508) 487-
Way Downtown
,
P'Town
- (508) 487-8800
#10: Let Sleeping Dogs Lie
We are putting the vacation back in vacation homes! When you stay in one of our
dog-friendly Cape Cod vacation rentals
with all the creature comforts of home, stunning water views and wide open spaces, you may simply want to relax and unwind, put some fresh seafood on the grill and do nothing! After all you are on vacation, so put your feet up and simply let sleeping dogs lie!